A historical group in Germany is trying to track down the family of a member of the Royal Canadian Air Force who died in a crash in February of 1945.
Erik Wieman, the co-founder of the organization says they have found the crash site of the plane from the 408 Squadron near Leistadt, close to the city of Worms which was its main target the night of February 21-22.
One of the seven crew members who died was Donald Edison Sherman of Harrow. Sherman, who was born in September of 1924, was living in Kingsville and working for Polymer when he enlisted in November of 1942.
Wieman is looking to provide Sherman's relatives with details on what occurred, inform them of the find, and plans to excavate the site. A memorial will be held at a later date.
Anyone who knows anything about Donald Edison Sherman is asked to contact Wieman at www.ig-heimatforschung.de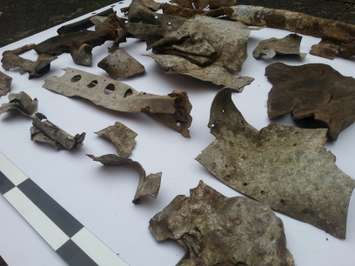 Donald Edison Sherman (plane remains) Photo courtesy of Erik Wieman Feb 15,2018