A special ribbon-cutting ceremony was held on Thursday afternoon to officially open the brand new Municipal Administration building in Lambton Shores.
The 12,500 square foot building is located at 9577 Port Franks Road in Thedford.
Lambton Shores Mayor Doug Cook said the $6.3 million facility is state-of-the-art.
"It's called a 'zero energy building'," said Cook. "It has solar panels on the roof. It's going to be energy-efficient enough to include the heating and cooling in its costs. It should be a zero cost to us once it's up and operating."
A display in the front lobby shows a live feed of the building's energy production and energy use. In addition to a net zero design, the facility was built to post-disaster standards which ensures the building can remain operational during and after severe or extreme weather events.
Chief Administrative Officer Steven McAuley said there will be 26 staff members working out of the building.
That includes treasury, planning, and public workers. There is also a new council chamber with enhanced live streaming capabilities.
"Having one central administration building provides a streamlined one-stop-shop experience for municipal services," said McAuley. "Having all staff in one building has also shown its ability to create a harmonized workforce with increased collaboration between departments."
In the past, they were housed in three separate locations, but the offices in Grand Bend, Forest, and Northville have now closed.
The ambitious project was financed through the mix of a loan, reserve funds, and additional grants.  Further details about the grant funding will be released at a later date.
Drop-in tours were held on Thursday afternoon.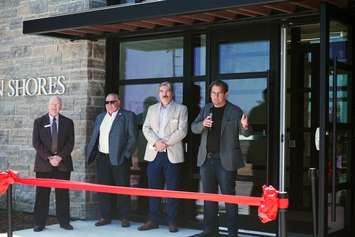 Brad Skinner from Skinner Architects addresses the crowd - May 25/23 (Photo courtesy of Alex Boughen)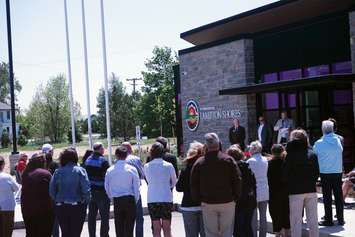 An audience gathers for the ribbon cutting of the new Lambton Shores Municipal Administration Building - May 25/23 (Photo courtesy of Alex Boughen)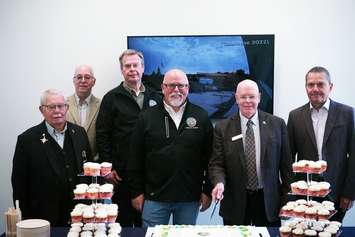 LTR: Councillor Ronn E. Dodge, Councillor Glen Bailie, Councillor Dave Marsh, Deputy Mayor Dan Sageman, Mayor Doug Cook, Councillor Scott Ferguson (Photo courtesy of Alex Boughen)