2,100 soft wood pallets, valued at more than $100,000, have been donated to Lambton College.
A special presentation to recognize the generous donation from Lanxess was held at the Fire and Public Safety Centre of Excellence on LaSalle Line Friday morning.
Fire Technology Instructor Kevin Graham says having such a large inventory of the same material will create consistency during controlled burn activities.
He says the pallets will be burned during training exercises, which will not only benefit their students but local firefighters as well.
Graham says the consumables, which arrived on six double stacked truckloads, will last a very long time.
Lambton College provides numerous structure fire training days for firefighters in the City of Sarnia and volunteer crews across Lambton County throughout the year.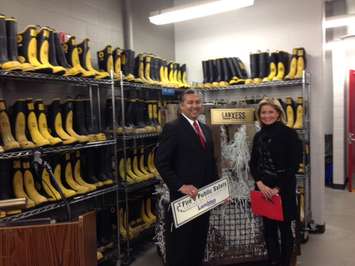 Sarnia Lanxess President Ubiratan Sa and Lambton College President and CEO Judith Morris. November 28, 2014 (BlackburnNews.com photo by Melanie Irwin)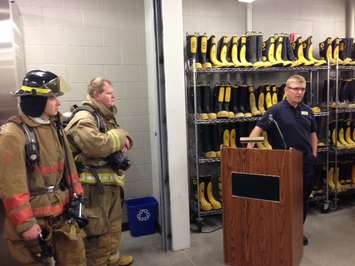 Lambton College Fire Technology Instructor Kevin Graham thanks Lanxess for its donation. November 28, 2014 (BlackburnNews.com photo by Melanie Irwin)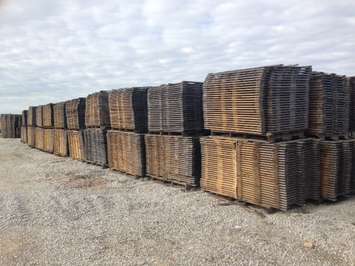 Lanxess donates 2,100 pallets to Lambton College's Fire School. November 28, 2014 (BlackburnNews.com photo by Melanie Irwin)