Lambton College has received another significant equipment donation. ABB is providing eight sets of computer systems, valued at nearly $511,000. The equipment will provide lab students with advanced process controls in various industrial manufacturing settings. Professor Chris Richardson says ABB's donation allows access to 11 stations and reduces the number of students in each lab group. He says the two software types being donated, are used by major manufacturers like NOVA Chemicals. "ABB, on a global scale, is the industry leader of distributed control systems. So we're very excited to have another major player in our existing labs," says Richardson.
"We have to measure pressures, levels, temperatures and flows, things to that nature... We want to keep those different variables at a specific level. Well, this computer system manages that for us."
Students enrolled in various technology programs at the college will begin using the new equipment this semester. ABB's donation goes toward the equipment renewal portion of the college's Envision Tomorrow Capital Campaign that has reached $33.3-million of its $45-million goal.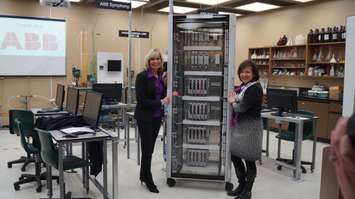 Lambton College President Judith Morris and ABB President Nathalie Pilon reveal advanced process control donation. January 21, 2016 (BlackburnNews.com Photo by Briana Carnegie)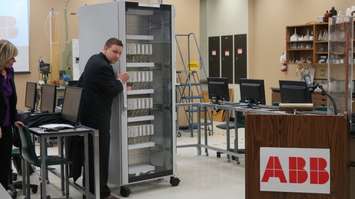 Lambton College Professor Chris Richardson turns the equipment around to reveal all of its sources. ABB donated eight computer systems. January 21, 2016 (BlackburnNews.com Photo by Briana Carnegie)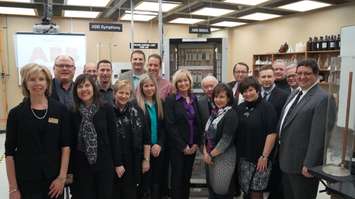 Lambton College partners with ABB in significant equipment donation to college's technology programs. January 21, 2016 (BlackburnNews.com Photo by Briana Carnegie)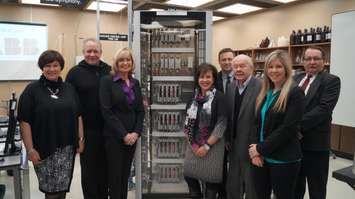 Lambton College partners with ABB in significant equipment donation to college's technology programs. January 21, 2016 (BlackburnNews.com Photo by Briana Carnegie)