The slots are coming back to Hiawatha Horse Park.
Sarnia-Lambton MPP Bob Bailey made the announcement at the London Line track Thursday morning.
He said the Doug Ford government has reached an agreement in principle to reestablish slot machines at Hiawatha, as well as Kawartha Downs and Ajax Downs, and provide additional funding to continue horse racing.
Horse park owner Jim Henderson said they've recently been averaging about 1,000 people a race.
He said before the slots were taken away in 2012, their numbers were significantly higher.
"Oh, we were always 2,000 people," said Henderson. "We had full buffets running and the place was packed. We had 3,000 to 4,000 people some days. It will be a big win for everybody, including the city."
The return of slots provides a revenue boost to the city as well.
Sarnia will earn 5.25 per cent of the first $65 million generated from the slots. The number drops to 2.5 to 3.5 per cent on the next $435 million, then down to 0.5 per cent once revenue reaches $500 million.
Gateway, the owner/operator, of the Point Edward casino, will be the tenant and operator of the 150 machines that will soon be installed at Hiawatha.
There were 450 slots at the racetrack before the Slots at Racetracks program was cancelled by the previous provincial Liberal government six years ago.
Bailey said resurrecting the program will provide a significant boost to the local economy.
"I know a number of local businesses along [London Line] that were really hurt when the slots left here because Jim had people come here overnight, buy gas, plus a couple of restaurants that catered to the people before or after the races."
The Progressive Conservatives promised to bring back the program during the provincial election campaign last June.
https://twitter.com/CGowdyCHOK/status/1055464970144620544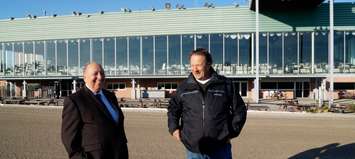 Sarnia-Lambton MPP Bob Bailey with Hiawatha Horse Park owner Jim Henderson. October 25, 2018. (Photo by Colin Gowdy, BlackburnNews)


Hiawatha Horse Park owner Jim Henderson and Sarnia-Lambton MPP Bob Bailey. October 25, 2018. (Photo by Colin Gowdy, BlackburnNews)