A new youth mental health facility is set to open its doors in Sarnia's downtown next September.
On Friday, representatives from three local health agencies unveiled ACCESS Open Minds Sarnia-Lambton in the former CIBC building at 190 Front St.
Bluewater Health Mental Health & Addictions Vice President Paula Reaume-Zimmer said the facility has been developed as a go-to destination for youth aged 11 to 25 and their families who are seeking fast access to education, assessments, counselling and treatment.
Reaume-Zimmer said Friday's announcement now allows those involved to have a fulsome conversation with the community about the potential for the site.
"So the next steps, we'll start working with the youth about ideas, what they want to see, what they envision as a space they want to be a part of, and then having designers, architects ready to put that on paper," said Reaume-Zimmer. "We're targeting September 2020, so it's pretty aggressive but I have to say, this process is moving full speed ahead. It's really almost difficult to slow down, there's so much momentum and enthusiasm about it."
Reaume-Zimmer said the city's downtown is perfect for the site because it's front and centre and not in a back, secluded area.
She said it's a site for both youth and their entire family.
"Sometimes youth come to an appointment that might be one hour, there's 23 hours of the day that family are actually the ones providing the support. So there's programming that families are involved with, families have peer support workers, so they come in, they can share someone who's experienced that and hear that type of support. Sometimes it's some advice, and sometimes just a listening ear."
St. Clair Child and Youth Services Executive Director Sue Barnes said the site will address a big need in Sarnia-Lambton to have youth mental health services on a more regular basis.
"Right now at St. Clair, we only have walk-in services two days a week, which is our main access into service. So if it's not a Tuesday or a Thursday and youth is in crisis, then they have to wait or the option is, they're going down to emerge, and going to emerge where they don't really need to be admitted to hospital but just want somebody to talk to."
Barnes said the other 14 Open Minds sites across Canada, including one in Chatham-Kent, are designed for and by youth.
"They're very homey, they're very different looking, so it's not like coming into a clinical environment to get treatment. The youth designed everything from the piece of furniture, to the couch, to the wall decor, to everything that they see fit in the space so that it's a safe environment that they feel comfortable in and supported, and it's a very casual environment for both the youth to attend and the staff to work in."
A Youth Advisory Council made up of 12 members aged 12-25, is involved with developing and designing the site.
Members Maura Cook, 16, and Janessa Labadie, 16, said it's about creating the proper environment for those in need.
"Oh it's going to be a huge benefit," said Cook. "Because the services we have are very good but the waiting lists, I know are long. I'm still waiting to get into a program, so I know the immediate help will be very beneficial."
Labadie said the site will be more like a coffee lodge than a doctor's office.
"Part of the big stigma about not going to get help is it's such a clinical setting, and I hate the doctor, it's terrifying, so we want to make this such an open space with couches and just safe because then it will hopefully break that stigma and have kids walk in the door and not be as scared, because their minds are already scary enough with what's going on with them."
The County of Lambton purchased the former bank property for just over $1-million about a year ago, and is now in the process of making the space available to ACCESS Open Minds.
Other organizations involved with the initiative include the Canadian Mental Health Association, Ontario Works, both local education boards, and youth diversion programs.
The Mike Weir Foundation was hoping to raise over $500,000 for the centre, and on Friday Imperial donated $50,000 toward the cause.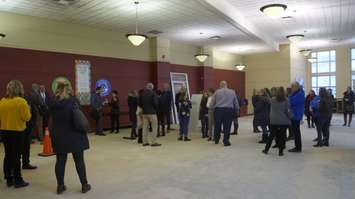 ACCESS Open Minds Sarnia-Lambton site unveiling. December 6, 2019. (BlackburnNews.com photo by Colin Gowdy)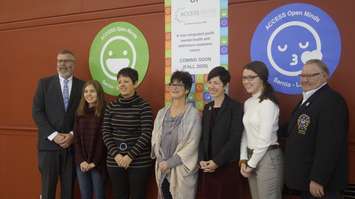 (From left to right) Alan Stevenson, Maura Cook, Paula Reaume-Zimmer, Sue Barnes, Kathy Alexander, Janessa Labadie, and Bill Weber at ACCESS Open Minds Sarnia-Lambton site unveiling. December 6, 2019. (BlackburnNews.com photo by Colin Gowdy)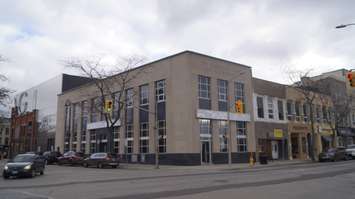 ACCESS Open Minds Sarnia-Lambton site unveiling. December 6, 2019. (BlackburnNews.com photo by Colin Gowdy)