A homeowner suffered burns in a fire Saturday that caused major damage to a residence on Lakeshore Rd. in Sarnia.
Fire Prevention Officer Roel Bus says crews responded in the late afternoon to the 1600 block of Lakeshore Rd. between Modeland Rd. and Blackwell Sideroad. "Fire started in the garage, a fully involved garage fire, that ended up reaching into the house somehow, says Bus. "There was an injury, the homeowner was attempting to rescue one of his vehicles, and sustained some burns on his arms."
Bus said the garage contained two vehicles and two motorcycles.   The injuries suffered by the homeowner were not serious and the man was treated and released.
He says the investigation into the cause continues. "We're still looking into it, there is no suspicion of foul play, at this time."
Fire crews fought the blaze through Saturday evening and the property was secured overnight.
Lakeshore Rd. was blocked off from Modeland Rd. to Blackwell Sideroad into Sunday afternoon.
Bus said smoke detectors and CO alarms were present in the home and functioning properly.  Damage estimates to the property are at $1 million.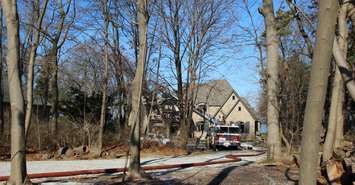 Fire caused major damage to a Lakeshore Rd. home Jan. 14, 2017 (Photo by Dave Dentinger)