The largest and most modern cruise ship on the Great Lakes made its way up the St. Clair River, travelling from Detroit to northern Michigan Tuesday.
The 665-foot Viking Octantis was on its inaugural eight day Niagara and Great Lakes trip that began in Toronto.
Despite the rain and thick fog, hundreds of residents gathered along the waterfront in Lambton County to watch the ship pass by on its monumental journey.
It was expected to stop in Alpena, Michigan, Mackinac Island and then Milwaukee, Wisconsin where the cruise will end.
The ship will spend this spring, summer and fall travelling through the Great Lakes stopping at ports in Canada and the United States.
The Viking Octantis has a crew of 256 and can accommodate 378 guests in 189 staterooms.
The ship passed by Sarnia and beneath the Blue Water Bridges in Point Edward just before 8 p.m.
You can track its journey here.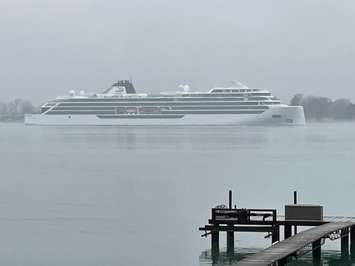 Photo of the Viking Octantis in Sombra. May 3, 2022. Photo courtesy of Brad Nisbit.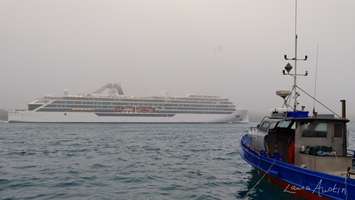 Photo of the Viking Octantis in taken from Purdy's Fisheries. May 3, 2022. Photo courtesy of Laura Austin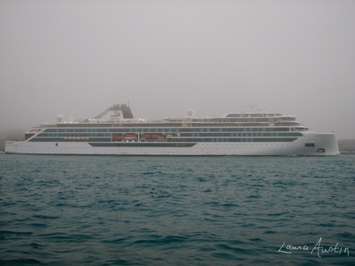 Photo of the Viking Octantis in taken from Purdy's Fisheries. May 3, 2022. Photo courtesy of Laura Austin