The Sarnia Sting capped a perfect 3-0-0 weekend with a dramatic 5-4 win over the Ottawa 67's in the annual Teddy Bear Toss game at the SSEC Sunday.
Newly acquired forward Matt Mistele scored the Sting's opening goal midway through the first period on the powerplay. A season high 4,067 fans tossed a record-breaking 3,580 stuffed toys onto the ice in support of children in need.
Over 50,000 stuffed toys have been collected over the 18-year history of the Teddy Bear Toss in conjunction with Lambton Ford.
Pavel Zacha made it 2-0 Sting four minutes later on a nice feed from Jordan Kyrou. Mistele scored his second of the game and 11th of the season early in the second period, with Jordan Kyrou picking up his second assist of the game.
The 67's went on to score four straight goals, including a hat-trick from Dante Salituro to pull ahead 4-3 in the third period.
Nikita Korostelev tied the game with a five on three powerplay goal at 15:13, and Jakob Chychrun potted the game winner 36 seconds later on a feed from Matt Mistele.
With the victory the Sting is now 16-10-2-0 on the season, just two points behind Windsor for the West Division lead.
Sarnia will host the Spitfires on Friday, December 11 and the Flint Firebirds on Sunday, December 13 at the SSEC.
You can hear all of the action live on 103.9FM-1070AM CHOK.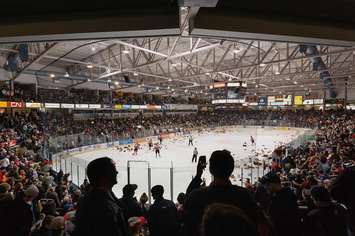 Stuffed Toys Collected at The Annual Teddy Bear Toss. December 6/15 (Photo Courtesy of Metcalfe Photography)