On the eve of the start of the Memorial Cup hockey tournament, the trophy emblematic of Canadian junior hockey supremacy, made a stop in Sarnia Thursday before setting sail for Windsor.
Named in honour of all soldiers who died fighting for Canada in any conflict, the trophy was fittingly on display at the Sarnia Legion on Front St.
Branch 62 First Vice-President Jim Burgess says a lot of people don't know the historical significance of the cup.
"They don't, even Legion members don't know that history," says Burgess. "I've been questioned before about people wearing their poppies on television during the Memorial Cup and I'd have to explain to them that that's the reason it's called the Memorial Cup."
He says it's special to have such an iconic trophy named in recognition of those who have served the country.
"It is and Canada is a lot better at doing that than the United States I believe. Their trophy's, a lot of times, are just named after past sportsman... whereas ours are named after politicians or government officials or a historical figure."
Burgess says Branch 62 past president Bill Chafe will drop the puck opening night in Windsor.
Sarnia Sting President Bill Abercrombie dropped by the Legion to see the cup, but kept his distance for superstitious reasons.
"It's the old hockey tradition," says Abercrombie. "You can look at the trophy, but you don't touch it until you win it. So, I'll sit back here and admire it from a distance and hopefully some day I'll go up there and touch it."
Mark George Sr. brought his 5-year-old son from the former camp Ipperwash to see the cup.
"I'm just here to show respect to all of the soldiers that have gone on to the spirit world," says George.
From the Legion, the trophy was transported to the Memorial Cup host city of Windsor on the Canadian Coast Guard Ship Constable Carriere via the St. Clair River, Lake St. Clair and the Detroit River.
It was scheduled to arrive at Dieppe Gardens at 6pm with a military inspired ceremony to follow.
The tournament featuring the host Spitfires, Erie Otters, Saint John Sea Dogs and Seattle Thunderbirds, starts Friday.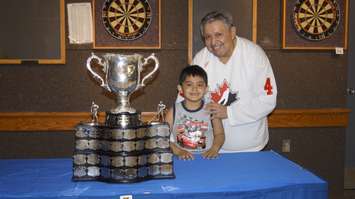 Memorial Cup on display at Sarnia Legion. (Left to right) Mark George Jr. and his dad, Mark A. George Sr., have their photo taken with the cup. May 18, 2017 (Photo by Melanie Irwin)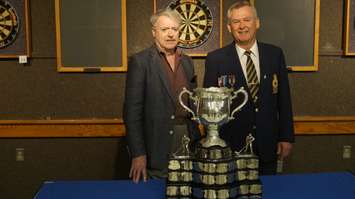 Memorial Cup on display at Sarnia Legion. (Left to right) Sarnia Mayor Mike Bradley and Branch 62 First Vice-President Jim Burgess. May 18, 2017 (Photo by Melanie Irwin)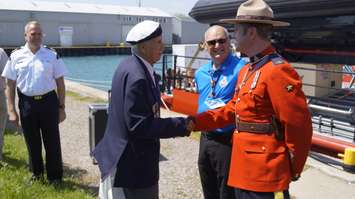 The Memorial Cup is loaded on the Canadian Coast Guard Ship Constable Carriere to travel to the Memorial Cup host city of Windsor. May 18, 2017 (Photo by Melanie Irwin)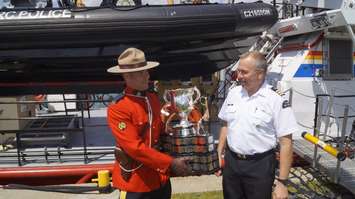 The Memorial Cup is loaded on the Canadian Coast Guard Ship Constable Carriere to travel to the Memorial Cup host city of Windsor. May 18, 2017 (Photo by Melanie Irwin)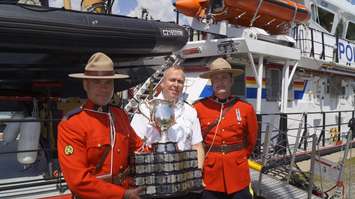 The Memorial Cup is loaded on the Canadian Coast Guard Ship Constable Carriere to travel to the Memorial Cup host city of Windsor. May 18, 2017 (Photo by Melanie Irwin)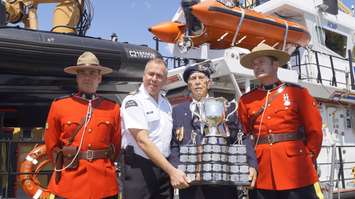 The Memorial Cup is loaded on the Canadian Coast Guard Ship Constable Carriere to travel to the Memorial Cup host city of Windsor. May 18, 2017 (Photo by Melanie Irwin)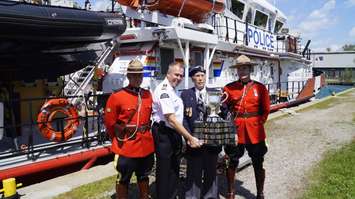 The Memorial Cup is loaded on the Canadian Coast Guard Ship Constable Carriere to travel to the Memorial Cup host city of Windsor. May 18, 2017 (Photo by Melanie Irwin)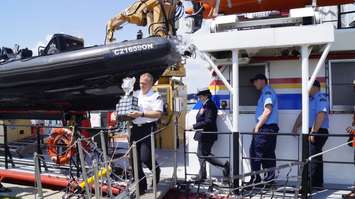 The Memorial Cup is loaded on the Canadian Coast Guard Ship Constable Carriere to travel to the Memorial Cup host city of Windsor. May 18, 2017 (Photo by Melanie Irwin)